There is not enough time for a proper monthly roundup due to the move this month. But that doesn't matter, because: I can now officially call myself the author of my own book! Six years after my journey as a doctoral student began, my monograph The Supernatural Media Virus: Virus Anxiety in Gothic Fiction Since 1990 has been published by transcript. With its publication, my doctorate is officially complete.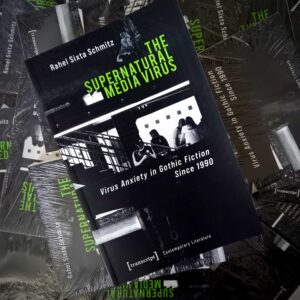 In this book, I address virus and network metaphors in Gothic fiction from the last 30 years through the lense of literary, media, and cultural studies. Not only have these metaphors generally become more popular during the last decades, but they are especially used in Gothic and horror fiction to negotiate media anxiety. For example, the ghost girl Sadako/Samara in Ringu/The Ring ultimately acts similar to a virus that continues to spread through various media networks. Things are similar in the novel House of Leaves by Mark Z. Danielewski, the BBC mockumentary Ghostwatch, the Japanese horror film Kairo, and its US adaptation Pulse. To make these and other monsters tangible, I coin the term "supernatural media virus" in my book. In Gothic fiction, the supernatural media virus describes the confluence of virus and network metaphors and deep-seated anxieties regarding a technologized and mediatized world.
If you want to read more about the confluence of the virus, the network, and media anxiety, check out the extract. If you wish to buy the book, you can do so through the publisher's online shop.